This organization was founded with support from the general public as a result of concern for the future existence of these horses, and the determination to preserve a culturally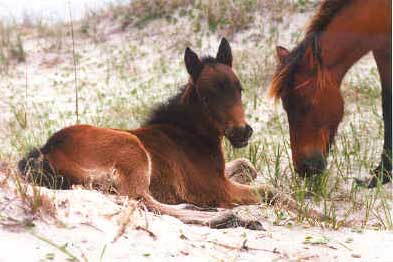 important and historically significant asset, in genetically viable numbers.
All persons with the Foundation, including the Board of Directors, work groups, attorneys, accountants, advisors, and Webmaster are unpaid volunteers.
It is our objective that History on Hooves, in the form of these living legends, will remain an integral part of the cultural heritage and history of Carteret County and the State of North Carolina.
The Foundation needs your contributions to:
- effect the management plan for the horses
- continue genetics research
- monitor the Shackleford Banks ecosystem
- expand health studies
- complete individual reference records (registry)
- continue established links with experts
- implement information/education programs
- establish a mainland reserve herd
- create a museum/library education Center

The Foundation for Shackleford Horses is a North Carolina non-profit corporation and an IRS 501(c)(3) charity.

Donations are tax deductible.
Would you like to become an Associate or make a donation? We have placed a form here you may print and use to contact us.
Thank you!