Photos & Stories
Sea-Horses of Shackleford

"They've always been there, they were here when our people came; they swam ashore off sinking ships"
- the elders of coastal North Carolina

On an uninhabited barrier island, just off the coast of North Carolina, live wild horses. They roam the dunes and marshes and swim in the small channels between the island and the nearby tidal flats, which ebb-out on the low tides and disappear again with the next high tide. For generation after generation of the coastal people, there have been stories handed-down about the wild horses that roamed these sand banks we now call the Outer Banks. Hardy and tough, they have survived where man could not. They have endured ... through hurricanes, droughts, north-easters, so'westers, and centuries. Now they need protection to survive.


-Carolyn Mason
Foundation for Shackleford Horses, Inc.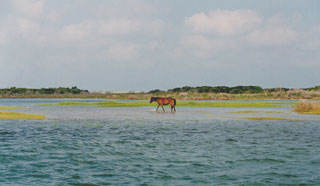 A wild stallion wades the shallows on the Back Sound side of Shackleford Banks. Two of his mares and the youngest member of his herd, a filly, soon follow.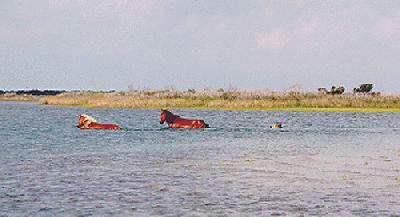 Even the tiniest residents of Shackleford can swim.
If you would like to join the foundation or make a contribution to help preserve these wonderful animals, please read Help the Horses or you may complete this form and mail it to the foundation.